The 1's Class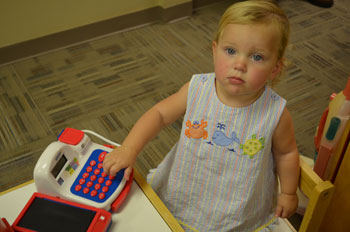 Children in our Ones classroom are exposed to a variety of nursery rhymes, finger plays, songs and stories to help develop and expand on their growing vocabulary. They work on a variety of early concepts, such as numbers, colors, opposites, shapes, animal names and sounds and identifying body parts. The teachers introduce basic Bible stories and simple Bible concepts such as "God made me" and "God loves me." The Ones explore with a wide variety of art supplies and spend lots of time on our playground developing their gross motor skills.
We have a very fun and exciting day with the Ones!
Kelly Plumley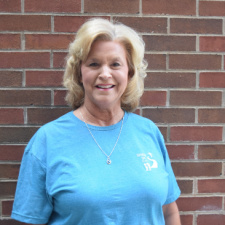 Kelly grew up in Greer and now lives in Taylors.  She is a member of Marietta First Baptist Church. Kelly will celebrate her 33rd wedding anniversary this year with her husband Van.  They have 3 grown children.  Her oldest Turner is an 8th grade math teacher at Greer Middle School and is married to Reagan.  Braden is a Sergeant with Anderson County Sheriffs Office, and he and his wife Alexis are expecting their first child on March 2nd.  Carly is a 6th grade English teacher at Greer Middle School and will be getting married on February 17th.  This is Kelly's fourth year at Aldersgate.
This is Sarah's first official year teaching at Aldersgate CDC.  Her daughter Brooke, now in K4, has attended the program since she was an infant.  Sarah has been a member of this church since she was a child, and before this year was a substitute in every classroom.  But she says the Ones Class has her heart!
Her favorite books are any by Eric Carle and If You Give a Mouse a Cookie.  Her favorite song to sing with children is Jesus Loves Me.