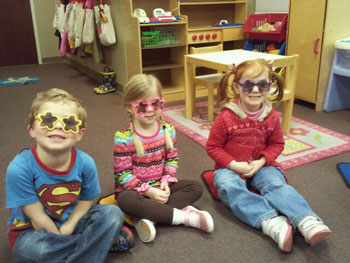 Children work with hands-on materials in preparation for writing and cutting. Children work on a variety of skills to prepare for K5. While phonemic awareness and reading readiness are a big part of K4, the classes also work on math, art, science and social studies, as well as gross motor, fine motor and social skills. They attend music and chapel classes once a week. Our five-day class also completes cooking activities and visits the computer lab.
Our K4 teachers develop lesson plans based on Kindergarten Common Core Standards and SC Early Learning Standards.
Late Stay Sample Schedule
Elizabeth Rogers – MWF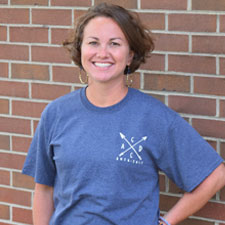 Elizabeth was new to Aldersgate last year and worked as an Aide in our K5 class. She has a Bachelor's degree in Early Childhood Education from Clemson University. She and her husband, Tim, are blessed with three children, Davis (8), Maggie (7), and Brooks (4). Elizabeth loves being involved with her church and has the most fun when she's working on a DIY project, enjoying the outdoors and spending time with her family and friends.
Favorite children's book: The Day the Crayons Quit
Favorite Bible verse: Colossians 3:12-14, "…regardless of what else you put on, wear love.  Never be without it."
Tarin Lewis – MWF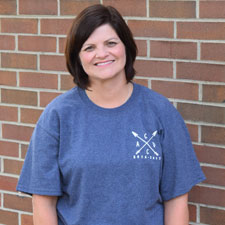 Tarin earned her BA in English and her MAT in secondary English education from the University of South Carolina, Columbia.  She taught high school English before staying home with her four children, all of whom attended Aldersgate.  Although this is her 11th year at Aldersgate, it's her first as a teacher.  When she isn't on the sidelines cheering at her children's sporting events, Tarin is gardening, baking, reading, or researching her family tree.
A favorite read-aloud for K4:  Grandma and the Pirates by Phoebe Gilman
A favorite Bible verse:  As indeed he says in Hosea, "Those who are not my people I will call my people," and her who was not beloved I will call "beloved." Romans 9:25
Bobbie Thomas – MWF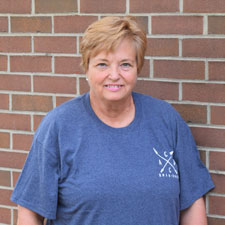 Bobbie started at Aldersgate in 2005 and has worked in the K3, K4 and K5 classes.She and he husband Glenn have one daughter Stephanie and a son-in-law Brandon.  They have been blessed with two grandchildren.  Anna is 3 and will be in the K3 class, and Noah is 8 months old.  Bobbie enjoys reading and Sunday dinner with her family.
Favorite children's books: anything by Eric Carle
Favorite classroom activity: singing Dr. Jean songs
Favorite Bible verse:  Trust in the Lord with all your heart.  Proverbs 3:5
Pam Hardison – T/TH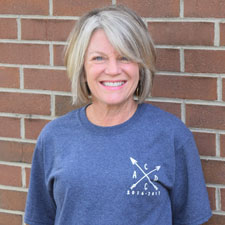 Pam is a Clemson University graduate and along with her husband Rick, is a parent to two teenage daughters, Anna and Katie. She had five years experience teaching in a K3 classroom before coming to Aldersgate Ones classroom in 2013. What she enjoyes most about the K3 children are their amazing minds! She loves talking to them and hearing what they have to say.
Favorite Bible story – The resurrection of the Lord Jesus
Favorite classroom theme – Family
Shannon Schechter – 5 Day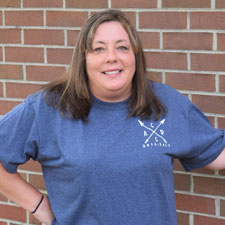 Shannon earned her bachelor's degree in psychology with a minor in Education from the University of Buffalo, and holds a master's degree in mental and rehabilitation counseling from the University of South Florida. This will be her 10th year teaching at Aldersgate. She and her husband Mitch have two children – Jacob (16) and Madelyn (14) – and one dog Abby!  When not teaching, she is often watching her daughter play soccer or her son play lacrosse.  She loves spending time with her family and friends.
Favorite children's books: all "Pete the Cat" books
Why she loves teaching:  watching the twinkle in a child's eye when he or she succeeds after trying and trying